THE BRAND
Isa Grutman offers an unique jewelry experience, crafting exquisite pieces of luxury. Drawing inspiration from vintage designs, our brand seamlessly blends classic elements with modern innovations. Our collection of fine jewelry showcases a curated selection of sophisticated designs, epitomizing elegance.
Isabela Grutman's vision for Isa Grutman is to inspire individuals to embrace their beauty and style. We place utmost importance on craftsmanship and quality at Isa Grutman, ensuring that each piece is carefully crafted. Isabela's thoughtful designs are versatile, suitable for any occasion and designed to be worn throughout the day.
OUR MISSION
Our mission is to offer each individual luxury jewelry crafted to be worn every day with grace, style, and elegance.
THE VISION
Isa Grutman envisions becoming your go to jewelry brand, offering unique, high-quality, comfortable styles, ensuring global recognition through luxurious and innovative designs that are made to last.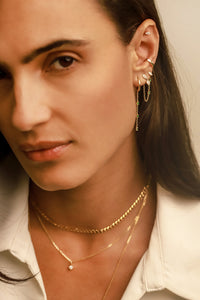 -ISABELA RANGEL GRUTMAN
"Isa Grutman Jewelry started with a vision, a dream and a passion. I am so thankful to be able to create jewelry that makes people feel and look beautiful. I am inspired everyday by individuals and the world around me."